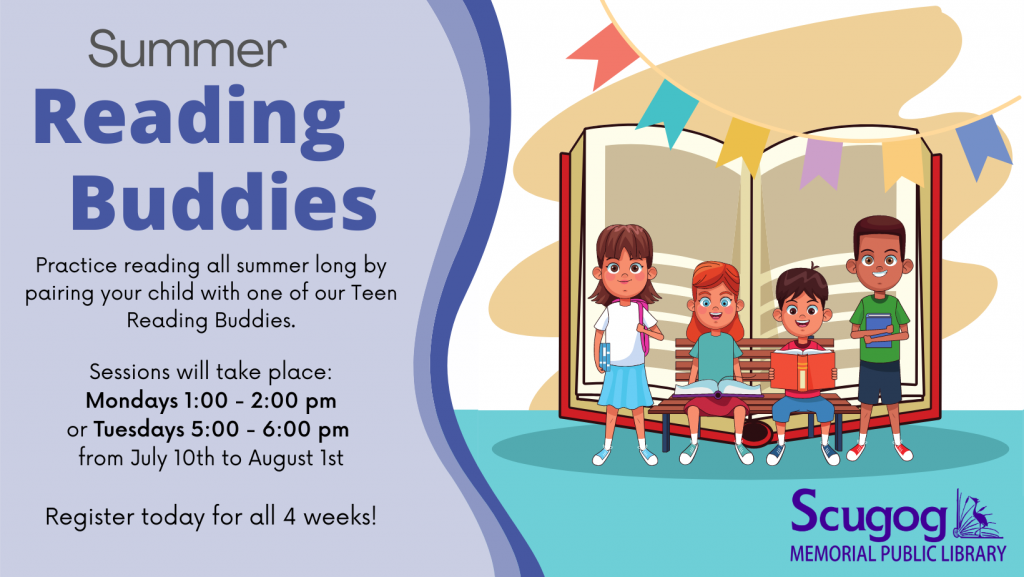 This summer, help your child practice their reading and continue building life-long literacy skills by pairing them with one of our teen reading buddies. Each week , your child can connect in-person, in the library, with a Teen Big Buddy. Together they will practice reading out-loud, learn new words & concepts, and enjoy telling stories at their individual reading levels. We will cap off each session with a fun activity or craft. This program is for school-aged kids going into grades 2-5 in the fall and is perfect for kids who could benefit from some extra encouragement to continue reading over the summer months.
More about the Reading Buddies Program
Reading Buddies will meet on the following dates and times:
SESSION ONE
Mondays
1 pm to 2 pm
July 10
July 17
July 24
July 31

SESSION TWO
Tuesdays
5 pm to 6 pm
July 11
July 18
July 25
August 1

There are limited times-slots available for this program. When registering you will be asked to choose a session that works best for you and commit to all four dates. Please fill out the application form and we will confirm with you via email or telephone.

There is no cost for this program. Registration opens on Saturday, June 24th and closes on Monday, July 3rd. Number of registrants will be dependent on the availability of volunteer Big Buddies.