MAKER ZONE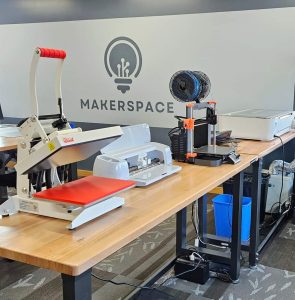 3D Printer – We have a Prusa MK4 3D printer. Whether you are an experienced user or someone looking to learn, book time on our 3D printer and make your designs a reality. Our Makerspace staff can assist you with your first project and even help you with training suggestions.
Laser Cutter – Our Glowforge laser cutter is an exciting tool that can be used to transform digital designs into functional and artistic objects across a variety of materials (including wood, leather and acrylic). A range of materials can be laser cut or engraved – purchase our materials or bring in your own. Our Makerspace staff will let you know whether or not they are compatible with our machine.
Craft Cutter – Get your creative juices flowing with our Cricut Maker 3. Design illustrations to cut on a broad range of materials and create everything from intricate paper artwork to large vinyl signage.
Heat Press – Create customized clothing, accessories and home décor using our equipment to design and cut a variety of heat-press materials then complete your project on our Siser Craft Heat Press. Some materials can be purchased on site and staff are available to assist in ensuring safe and successful applications.
Laminator – want your document or photo to last? Use our laminator to protect it. Laminating envelopes are available for purchase.
Button Maker – if you want a custom button to pin to your jacket or gift to a friend, why not create your own?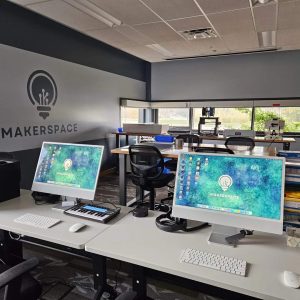 SOUND & VISION
Two iMac workstations – are available outfitted with a wide variety of software to support your creative journey. Whether your goal is sound, photo or video editing; 2D or 3D modelling; or illustration and graphic design the free and licensed software options will give you the tools you need. (e.g. Adobe Creative Suite, AutoCAD, Fusion 360, Ableton Live and more). If you want to create original art & music a Launchkey midi controller & Apple iPad (with an Apple Pencil) are also available, just ask Makerspace Staff for more info.
Large Format Printer – an HP DesignJet T210 printer with roll paper 24″ wide. Perfect for printing posters, floorplans, or sewing patterns.
Studio Lighting Kit – need a green screen or backdrop for photos, video or animation? We have a kit that can be used on site to help set the scene for your project.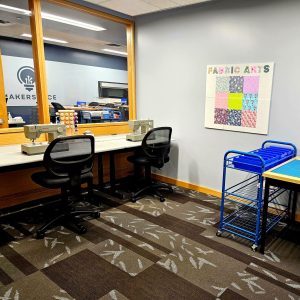 FABRIC ARTS
Sewing – Learn how to sew or show off your fashion designer skills with our Singer 4452 Heavy Duty sewing machines. If you have previous experience, you're free to sew, quilt and more! If you're a beginner wanting to get started, talk to our Makerspace Staff for assistance and training suggestions.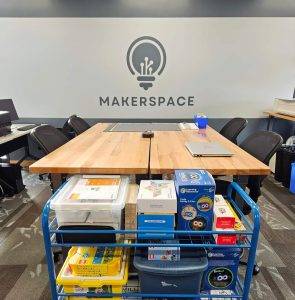 CODING & ROBOTICS
STEM Coding Kits – Many different kits are available for in-library use by individuals or families who would like to explore electronics and coding for all age levels (including Arduino, Raspberry Pi, Makey Makey kits, LEGO Spike and Botley).