The Kent Farndale Gallery is open during the regular operating hours of the Library. For more information please use our contact page to connect with Library staff.
The Gallery is currently accepting applications for the 2023 exhibition season.
Click here for an application form.
Gallery Schedule – Nov 2021 to Dec 2022
Nov 6th – Jan 6th, 2021
Opening Reception: Nov 6 @ 11am
Portraits in Black and White – Jonathan van Bilsen
Jan 8th – Feb 3rd, 2022
Opening Reception: None
Towers and Turrets – Berkeley Emmons
Feb 5th – Mar 3, 2022

Differing Perspectives – Jennifer Ross and Gordon Ross

Mar 5th – Apr 7th, 2022
Opening Reception: None
The Painted Ladies Return – The Painted Ladies
Apr 9th – May 5th, 2022
Opening Reception: Apr 9 @ 2pm
Shape Shifting Over Time – Lynne Lee
May 7th – Jun 2nd, 2022

China: through the Lens and the Brush – Ray McNeice and James Wilkes
Jun 4th – 23rd, 2022

Annual Port Perry High School Art Show
Jun 25th – Jul 21st, 2022

Jubilant Return – Ajax Creative Arts
Jul 23rd – Aug 25th, 2022

Beautiful World – Sharon Nielsen
Aug 27th – Sep 22nd, 2022

Light, Mood and Silence – Janice Brown
Sep 24th – Oct 27th, 2022

Memories – Sweet Art Group of Artists
Oct 29th – Nov 24th, 2022

Pause in Wonder – Kevin Stewart
Dec 3rd – 30th, 2022

Gallery Schedule – Nov 2021 to Dec 2022
The Kent Farndale Gallery focuses on exhibiting the works of emerging and established artists and craftspeople in many media. Throughout the years, it has showcased the talents of local and international artists. A popular destination for Durham region residents, the Gallery attracts over 26,000 visitors per year. Each show lasts four weeks with an opening reception usually taking place the first day of the exhibition.The Gallery is located inside the Scugog Memorial Public Library and opened in May 1982 at the time of the official opening of the old library.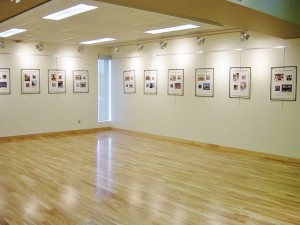 Hours of Operation as follows:
| | |
| --- | --- |
| Monday | 10:00am to 6:00pm |
| Tuesday | 10:00am to 9:00pm |
| Wednesday | 10:00am to 6:00pm |
| Thursday | 10:00am to 9:00pm |
| Friday | 10:00am to 6:00pm |
| Saturday | 10:00am to 5:00pm |
| Sunday | 1:00pm to 5:00pm |
The Gallery is named in honour of Kent Farndale who served as volunteer Director and curator of the exhibitions for ten years. The Board of Directors also established an Art Bursary in her name which is awarded annually to a Scugog resident.
The Kent Farndale Gallery is operated by a volunteer committee and provides a professional environment for new and emerging artists to display their works and an opportunity for the community to view fine art and craft and to meet the artists.
Are you interested in exhibiting in the Gallery? Click here for more information.
Kent Farndale Gallery
Scugog Memorial Public Library
Box 1049, 231 Water Street
Port Perry, ON L9L 1A8
(905) 985-7686