Are you looking for ways to earn high school volunteer hours?
Want to WIN free bookish stuff from time to time?
Searching for social time with other Teen readers?
You came to the right spot!
Your library has lots of opportunities for youth in grades 9-12.

Earn Volunteer Hours by joining TAG!
Every month during the school year, the Teen Advisory Group meets to discuss ways that libraries can enrich the lives of teenagers. Learn library skills, plan teen events, discuss books and movies with like-minded teens:
We meet on the 4th Tuesday of every month @ 3pm.
VIEW MEETING CALENDAR
Earn 1 hour for every meeting you attend.
Earn more hours by planning and organizing events and contests at the library.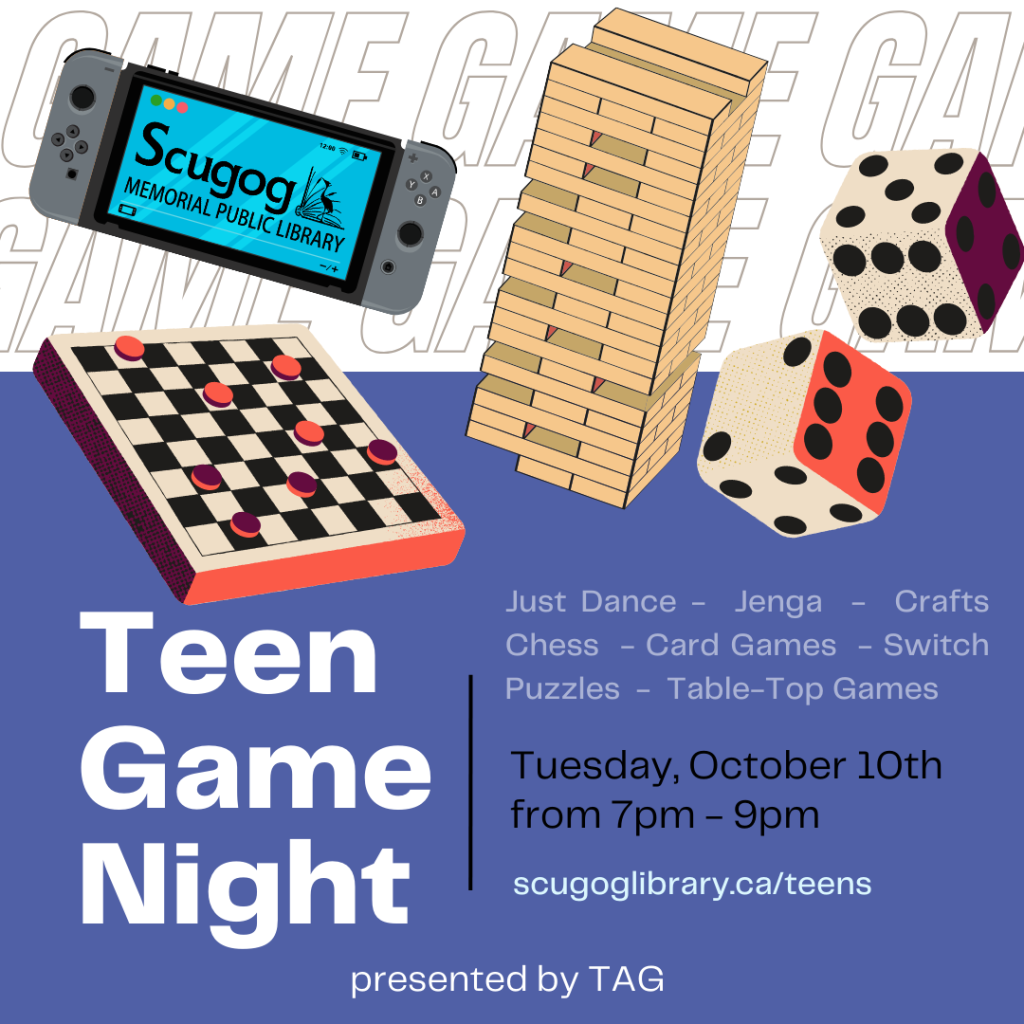 𝗧𝗘𝗘𝗡 𝗚𝗔𝗠𝗘 𝗡𝗜𝗚𝗛𝗧 @ 𝗧𝗛𝗘 𝗟𝗜𝗕𝗥𝗔𝗥𝗬
DATE: Tuesday, October 10th
TIME: 7pm – 9pm
Hey, teens of Scugog! Join us in the library for a couple hours of gaming, snack food and laughs. We're going to hook the Switch up to the big screen and have a few dance-offs. There will be table-top games like Jenga, Scrabble, Chess and Battleship. We will have a card table if anyone wants to Go Fish. And we will even have some fun crafts, activities and colouring sheets to pass the time. Bring a few friends and hang out in the Rotary Room!
This event is being organized by Scugog Public Library's Teen Advisory Group (TAG), which means it's made by teenagers for teenagers (ages 13-18). It's a safe-space for everyone, it's free, and you can drop-in anytime between 7pm and 9pm.
See you at the library!!

Check back here often. We are always coming up with new contests ideas so that teens in Scugog Township can win cool, bookish things!