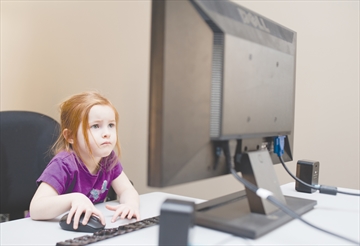 Port Perry Star
SCUGOG — The Scugog library is leading the charge when it comes to embracing new technology.
Once a home to aisles of shelved books and quiet nooks for reading and studying, the local library is slowly transforming into the township's technological hub as it continues to welcome and promote the use of gadgets and gizmos.
"Libraries have always been very quick to change and respond to users' needs," said Amy Caughlin, the chief executive officer of the Scugog Memorial Public Library. "I think libraries are now being seen as community centres and assisting in the enrichment of the community. They're supporting people with both the educational aspects of literacy and leisure."
While books still remain the bulk of the library's collection, the Scugog atheneum has seen big changes in the last several years with the introduction of e-books and other new technology.
"It's really exploded in the last five years. We're seeing a bigger and bigger increase," said Ms. Caughlin of the community's enthusiasm for e-books.
Just like regular books, e-books can be checked out of the Scugog library — through the Ontario-wide OverDrive system, which boasts a catalogue of 48,000 titles — by download from www.scugoglibrary.ca and then enjoyed over a two-week span. E-books can be renewed.
In December, nearly 1,700 e-books were signed out through the Scugog library.
"Proportionally, for our population, we are one of the most heavily used e-book circulations," said Ms. Caughlin, a fan of e-books herself.
"One of the advantages is you can change the font size," she continued. "And they're much more portable and you can switch between books if you read more than one at a time."
The Scugog library has also seen an immense increase in the use of its computers since the library nearly doubled in size a few years ago. Before the expansion, the library offered a half-dozen computers to the public; now, nearly 30 machines are constantly used by the community every day, said the library CEO.
The library, noted Ms. Caughlin, has one of the fastest Internet connections in urban Port Perry.
And, while it's hard to pinpoint an exact number, given the number of people in and around the library with iPhones, iPads and other handheld gadgets, the use of wifi is also skyrocketing, she added.
The Scugog library also continues to offer DVDs, CDs and audio books, but also features an X-Box console in its teen area and provides opportunities for those interested in learning about the Internet, e-mail and programs such as Skype.
"A lot of seniors want to learn Skype to use to communicate with their kids and grandkids who may not live in the area," said Ms. Caughlin.
There have also already been requests for a 3-D printer for the library, she added.
"That's still a fun-to-have thing, just sort of something interesting, but not necessary," said the CEO, stressing, "We have a very tight budget."
It hasn't been hard, agreed Ms. Caughlin, for the Scugog library to shake its image of a staid and silent facility focussed solely on books.
"Technology is really important, it's one of the functions of the library now," she said. "Libraries have always been about literacy and technological literacy is just as vital in this day and age. We're helping people bridge the digital divide."
But one stereotype Ms. Caughlin hopes the library doesn't shed is its place as 'Scugog's living room'.
"In an environment where people spend so much time online and looking at screens, they still come to the library as a place to relax, to read, to surf," she said.
BY THE NUMBERS:
• 154,484: Visitors who wandered into the Scugog library in 2014 (not counting visits to the Kent Farndale Gallery and community rooms)
• 157,544: Items borrowed or circulated in 2014, not counting e-books
• 15,775: Items borrowed or circulated in July 2014, the library's busiest month of the year
• 23,140: Number of people who used the library's 29 public computers in 2013
• 521: Programs offered by the library in 2013
• 8,292: People who took part in those programs in 2013
• 10,433: Number of active library card holders who used their card in the past five years
• 26,000-plus: Number of people with a library card
HOW THIS IMPACTS YOU
• Public libraries are available to everyone, offering programs and services to support children, youth, families, students, workers, and seniors.
• Studies show that public investment in libraries delivers a measurable, positive return on investment economically, socially and for the capacity of communities to attract businesses and residents.
• Ontario's public libraries offer access to millions of dollars of high quality electronic resources, databases and e-books for just over $1 per Ontarian.
• More than 5 million Ontario residents make hundreds of millions of visits to the library — in person and virtually — each year and the number of active library membership cards continues to rise.
• In 2013, more than 50 per cent of Ontarians visited a public library.
Source: Ontario Library Association