Julie & Julia: My Year of Cooking Dangerously by Julia Powell


Publisher: Little, Brown
Publication Date: Jul 1 2009 (Mass Market)


ISBN-10: 031604251X

ISBN-13: 978-0316042512

Memoir / Cooking

Check Availability

Julie & Julia

is the story of Julie Powell's attempt to revitalizeher marriage, restore her ambition, and save her soul by cooking all 524 recipes in Julia Child's

Mastering the Art of French Cooking

in a period of 365 days. The result is a masterful medley of

Bridget Jones' Diary

meets

Like Water for Chocolate

, mixed with a healthy dose of original wit, warmth, and inspiration that sets this memoir apart from most tales of personal redemption.

When we first meet Julie, she's a frustrated temp-to-perm secretary who slaves away at a thankless job, only to return to an equally demoralizing apartment in the outer boroughs of Manhattan each evening. At the urging of Eric, her devoted and slightly geeky husband, she decides to start a blog that will chronicle what she dubs the "Julie/Julia Project." What follows is a year of butter-drenched meals that will both necessitate the wearing of an unbearably uncomfortable girdle on the hottest night of the year, as well as the realization that life is what you make of it and joy is not as impossible a quest as it may seem, even when it's -10 degrees out and your pipes are frozen.

Powell is a natural when it comes to connecting with her readers, which is probably why her blog generated so much buzz, both from readers and media alike. And while her self-deprecating sense of humor can sometimes dissolve into whininess, she never really loses her edge, or her sense of purpose. Even on day 365, she's working her way through Mayonnaise Collee and ending the evening "back exactly where we started--just Eric and me, three cats and Buffy...sitting on a couch in the outer boroughs, eating, with Julia chortling alongside us.
Why Your World is About to Get a Whole Lot Smaller

by Jeff Rubin


Publisher: Random House Pub Date: May 19 2009
ISBN-10: 0307357511
ISBN-13: 978-0307357519
Social Issues
Check Availability
What do subprime mortgages, Atlantic salmon dinners, SUVs and globalization have in common?
They all depend on cheap oil. And in a world of dwindling oil supplies and steadily mounting demand around the world, there is no such thing as cheap oil. Oil might be less expensive in the middle of a recession, but it will never be cheap again.
Take away cheap oil, and the global economy is getting the shock of its life.
From the ageing oilfields of Saudi Arabia and the United States to the Canadian tar sands, from the shopping malls of Dubai to the shuttered auto plants of North America and Europe, from the made-in-China products on the shelves of the Wal-Mart down the road to the collapse of Wall Street giants, everything is connected to the price of oil
Interest rates, carbon trading, inflation, farmers' markets and the wave of trade protectionism washing up all over the world in the wake of various economic stimulus and bailout packages - they all hinge on the new realities of a world where demand for oil eventually outstrips supply.
According to maverick economist Jeff Rubin, there will be no energy bailout. The global economy has suffered oil crises in the past, but this time around the rules have changed. And that means the future is not going to be a continuation of the past. For generations we have built wealth by burning more and more oil. Our cars, our homes, our whole world has been getting bigger in the cheap-oil era. Now it is about to get smaller.
There will be winners as well as losers as the age of globalization comes to an end. The auto industry will never recover from this oil-induced recession, but other manufacturers will be opening up mothballed factories. Distance will soon cost money, and so will burning carbon - both will bring long-lost jobs back home. We may not see the kind of economic growth that globalization has brought, but local economies will be revitalized, as will our cities and neighborhoods.
The Sisters Antipodes: A Memoir
by

Jane Alison
Publisher: Houghton Mifflin Harcourt;
Publication Date: Feb 18 2009
ISBN-10: 0151012806
ISBN-13: 978-0151012800
Biography & Memoir
Check Availability
When Jane Alison was a child, her family met another that seemed like its mirror: a father in the Foreign Service, a beautiful mother, and two little girls, the younger two-one of them Jane-sharing a birthday.
With so much in common, the two families became almost instantly inseparable.Within months, affairs had ignited between the adults, and before long the pairs had exchanged partners-divorced, remarried, and moved on. As if in a cataclysm of nature, two families were ripped asunder, and two new ones were formed.Two pairs of girls were left in shock, a "silent, numb shock, like a crack inside stone, not enough to split it but inside, silently fissuring." And Jane and her stepsister were thrown into a state of silent combat for the affections of their absent fathers-a contest that, as this gorgeous, piercing memoir recounts, would prove tragic.
Stuffed and Starved
by Raj Patel

Publisher: Harper Perennial Canada
Publication Date: Mar 2 2009
ISBN-10: 1554680115
ISBN-13: 978-1554680115
Social Issues
For those with enough money - and that's most of us in wealthier countries - life is good. We can eat almost anything we want, regardless of where it comes from, what season it is or how much it costs. The world is our dish, laden with more foods than we've ever seen in history and more calories than we know what to do with. A continent away, there are more bloated bellies, but this time from malnutrition - seemingly due to a scarcity of food.
But these two contrasting worlds are linked, deeply and inextricably. In a timely look at the entire global food chain,
Stuffed and Starved
asks us to think about the way our food comes to us, to understand how our supermarket shopping makes us complicit in denying freedom to the world's poorest and to recognize how we ourselves are poisoned by our choices.
Raj Patel, an author uniquely qualified to take a long, broad view of world food production, looks at food systems - the machine most of us don't even know exists - and the web made up of corporations, the World Bank, the World Trade Organization, farmers' groups, government agencies and corporate lobbyists. From farm to fork, Patel travels to rural collectives in Brazil, investigates the all-powerful distribution networks, serves up the specific journeys of coffee, soy and high-fructose corn syrup, and visits the kitchens of fast-food restaurants. What he uncovers is the shocking story of commercial greed and helpless hunger that is a key ingredient in everything we eat.
Natural Alternatives for You and Your Home: 101 Recipes to Make Eco-Friendly Products
by Casey Kellar
Publisher: Krause Publications
Publication Date: Aug 3 2009
ISBN-10: 1440202419
ISBN-13: 978-1440202414
House & Home / Living Green

Check Availability
From soaps, shampoos and fragrances to household cleaners and bug repellants made with natural ingredients, you can learn to make a difference in the environment and your personal health using Natural Alternatives for You and Your Home. Choose from the 101 precise recipes, for both your home and yourself, featured in this book and use the easy-to-follow instructions and photos to create economical and eco-friendly products.
Casey Kellar is the founder and former CEO of RainShadow Labs and RainCountry Naturals. She's been involved in the beauty and home fragrance industry for more than 23 years, which includes her role as a "natural" chemical designer/compounder.
A Shadow on the Household: One Enslaved Family's Incredible Struggle for Freedom
by Bryan Prince
Publisher: McClelland & Stewart
Publication Date: Jan 6 2009
ISBN-10: 0771071256
ISBN-13: 978-0771071256
Biography & Memoir / Social History
Check Availability
The extraordinary story of one couple's determination to free themselves and their children from slavery and make a new life in Canada
Prior to abolition in 1865, as many as 40,000 men, women, and children made the perilous trip north from enslavement in the United States to freedom in Canada. Many were aided by networks that came to be known as the Underground Railroad. And the stories that emerge from the past about these journeys are truly remarkable.
In
A Shadow on the Household
, Bryan Prince, a descendant of slaves, brings to life the heart-wrenching story of the Weems family and their struggle to liberate themselves from slavery. John Weems, a man who purchased his own freedom, paid the owner of his enslaved wife and eight children an annual fee to keep them together at one plantation. But when that owner died, the Weemses were cruelly separated and scattered throughout the South. Heartbroken and desperate, John resolved to raise the money to buy his family's freedom and reunite them. Mining newspapers, private letters, diaries, estate records, marriage registries, and abolitionist papers for details of a story cloaked in secrecy, Bryan Prince has rescued the Weems family and their plight from historical oblivion.
An unforgettable story of love and persistence, played out in four countries (the United States, Canada, Jamaica, and the United Kingdom) against the backdrop of the publication of
Uncle Tom's Cabin
, a growing abolitionist movement, and the heroic efforts of the Underground Railroad, the Weems family saga must be read to be believed.
Why GM Matters
by William Holstein
Publisher: Bloomsbury US
Publication Date: Feb 17 2009
ISBN-10: 0802717187
ISBN-13: 978-0802717184
Auto Industry / Economics
Check Availability
In November, GM CEO Rick Wagoner appeared before Congress to ask for $25 billion to bail out the struggling Big Three automakers. To critics like Thomas Freidman and Mitt Romney, it was a sign that the American auto industry should be led out to pasture; if the Japanese are better at making cars, they said, then we should let them do it. To defenders, the loss of the country's largest manufacturing sector would be an incomprehensible disaster. Nearly every day, the debate rages on the op-ed pages. Billions of dollars and millions of jobs hang in the balance.
In
Why GM Matter
s, William Holstein goes deep inside GM to show what's really happening at the country's most iconic corporation. Where critics say that GM has sat on its hands while the market changed, Holstein demonstrates that GM has already radically retooled its entire operation, from manufacturing and cost structure to design. Where pundits say we'd be better off without GM, he shows how inextricably linked GM and the nation's economy still are: The country's largest private buyer of IT, the world's largest buyer of steel, the holder of pensions for 780,000 Americans, GM accounts for a full 1 percent of our country's GDP. A dollar spent on GM has profoundly different consequences from a dollar spent on Toyota.
Following a diverse cast of characters-from Rick Wagoner, the controversial CEO, to design director Bob Boniface, to Linda Flowers, a team leader on the line in Kansas City-Holstein examines the state of GM's health and builds a persuasive argument that GM is essential to our nation's well-being and, with the right economic climate, ready to compete with Toyota as one of the biggest global automakers.
Healing Depression the Mind-Body Way: Creating Happiness with Meditation, Yoga, and Ayurveda

by

Nancy Liebler and Sandra Moss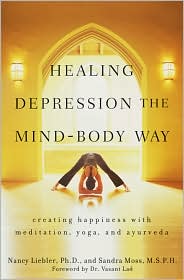 Publisher: Wiley
Publication Date: Mar 20 2009
ISBN-10: 0470286318
ISBN-13: 978-0470286319
Mind & Body

Check Availability
Healing Depression the Mind-Body Way
shines a new light on the darkness of depression by presenting specific antidepression strategies designed to help you unleash your innate healing potential. The time-tested advice presented in this book is based on the latest theories of modern science and the practical wisdom of Ayurveda, an ancient system of natural medicine. This unique book offers a comprehensive step-by-step program for eradicating the root of depression from the physical, mental, emotional, and spiritual aspects of your being.
Through detailed questionnaires about your psycho-physiological profile and elemental imbalances, you will identify an archetype that most represents your experience with depression. Then, you will design a tailor-made health program to regain balance in your mind-body.
You will learn to undo depression by:
- Identifying your unique manifestation of depression based on elemental imbalances
- Using yoga, exercise, and breathing techniques that are in sync with your specific physical, mental, and emotional needs

- Using food and meditation as medicine


Whether you are battling a depressive episode or need support coping with the problems of daily living, this book will help you awaken the "physician within" and embark on a pathway to a life of balance and renewal.
BabyCakes: Vegan, (Mostly) Gluten-Free, and (Mostly) Sugar-Free Recipes from New York's Most Talked-About Bakery
by Erin McKenna

Publisher: Clarkson Potter
Publication Date: May 5 2009
ISBN-10: 0307408833
ISBN-13: 978-0307408839
Food & Drink / Cooking
Simply, BabyCakes is your key to an enlightened, indulgent, sweets-filled future. This is important news not only for parents whose children have allergies, for vegans, and for others who struggle with food sensitivities, but also for all you sugar-loving traditionalists. The recipes in these pages prove that there is a healthy alternative to recklessly made desserts, one that doesn't sacrifice taste or texture.

Having experimented endlessly with alternative, health-conscious sweeteners, flours, and thickeners, Erin McKenna, the proprietress of beloved bakery BabyCakes NYC, developed these recipes-most are gluten-free, all are without refined sugar-in hopes of combating her own wheat, dairy, and sugar sensitivities. In BabyCakes, she shares detailed information about the ingredients she uses (coconut flour, xanthan gum, and agave nectar, for example) and how to substitute them properly for common ones-all the while guiding you safely through techniques she's spent years perfecting.

Enclosed within these pages are all the "secrets" you'll need to bring the greatness of BabyCakes NYC into your own home as well as raves and recommendations from devotees such as Natalie Portman, Jason Schwartzman, Mary-Louise Parker, Zooey Deschanel, and Pamela Anderson.

For confectionists of all kinds, delicious alternatives lie within: Red Velvet Cupcakes, Chocolate Shortbread Scones with Caramelized Bananas, Strawberry Shortcake, and BabyCakes NYC's celebrated frosting (so delicious it has fans tipping back frosting shots!), to name just a few. Finally, Erin's blissful desserts are yours for the baking!

Meditation As Medicine: Activate the Power of Your Natural Healing Force
by Dharma Singh Khalsa and Cameron Stauthr
Publisher: Atria
Publication Date: May 21 2002
ISBN-10: 0743400658
ISBN-13: 978-0743400657
Mind & Body
Check Availability
Proven effective by scientific research and presented here by Dr. Dharma Singh Khalsa and Cameron Stauth, the practice of Medical Meditation revolutionizes the healing process. By balancing and regenerating the body's ethereal and physical energies through simple meditations, Medical Meditation unites the mind, body, and spirit into a powerful triad.
Each Medical Meditation here has a specific physiological effect, targeting afflictions from arthritis to ulcers to cancer. Dr. Khalsa details the five unique attributes that endow this type of meditation with far more power than standard meditation. The combination of special postures and movements; exact positioning of the hands and fingers; particular mantras; specific breathing patterns; and a unique focus of concentration can change your entire biochemical profile, easing you into a calm, healing state. Practiced in conjunction with conventional or alternative medical treatments, cutting-edge Medical Meditation activates the healing force within you.
Soldier From the War Returning: The Greatest Generation's Troubled Homecoming from World War II
by Thomas Childers

Publisher: Houghton Mifflin Harcourt
Publication Date: April 15 2009
ISBN-10: 0618773681
ISBN-13: 978-0618773688
War History / Social Issues
Check Availability
One of our most enduring national myths surrounds the men and women who fought in the so-called "Good War." The Greatest Generation, we're told by Tom Brokaw and others, fought heroically, then returned to America happy, healthy and well-adjusted. They quickly and cheerfully went on with the business of rebuilding their lives. In this shocking and hauntingly beautiful book, historian Thomas Childers shatters that myth. He interweaves the intimate story of three families-including his own-with a decades' worth of research to paint an entirely new picture of the war's aftermath. Each of these men spent two years overseas, fought and survived the war, and returned home. But the war changed them unalterably, and as the years passed, it leached out in desperate, sometimes destructive ways. Novelistic in its telling and impeccably researched,
Soldier From the War Returning
is a stark reminder that the price of was is unimaginably high. The consequences are human, not just political, and the toll can stretch across generations.
Aboriginal Ontario: Historical Perspectives on the First Nations
by Edward Rogers and Donald Smith

Publisher: Dundurn Press
Publication Date: Sep 1 1994
ISBN-10: 155002230X
ISBN-13: 978-1550022308
Ontario History / First Nations History
Check Availability
Aboriginal Ontario: Historical Perspectives on the First Nations
contains seventeen essays on aspects of the history of the First Nations living within the present-day boundaries of Ontario. This volume reviews the experience of both the Algonquian and Iroquoian peoples in Southern Ontario, as well as the Algonquians in Northern Ontario. The first section describes the climate and landforms of Ontario thousands of years ago. It includes a comprehensive account of the archaeologists' contributions to our knowledge of the material culture of the First Nations before the arrival of the Europeans. The essays in the second and third sections look respectively at the Native peoples of Southern Ontario and Northern Ontario, from 1550 to 1945. The final section looks at more recent developments. The volume includes numerous illustrations and maps, as well as an extensive bibliography.