The Crowning Glory of Calla Lily Ponder

by Rebecca Wells




Publisher: Harper
Pub Date: Jul 7 2009

ISBN-10: 0060175311

ISBN-13: 978-0060175313

Chick Lit / Literary Fiction

Check Availability

Known for her beloved

Divine Secrets of the Ya-Ya Sisterhood

, Rebecca Wells debuts an entirely new cast of characters in this shining stand-alone novel about the pull of first love, the power of life, and the human heart's vast capacity for healing.

In the small river town of La Luna, Calla bursts into being, a force of nature as luminous as the flower she is named for. Under the loving light of the Moon Lady, the feminine force that will guide and protect her throughout her life, Calla enjoys a blissful childhood - until it is cut short. Her mother, M'Dear, a woman of rapture and love, teaches Calla compassion, and passes on to her the art of healing through the humble womanly art of "fixing hair." At her mother's side, Calla further learns that this same touch of hands on the human body can quiet her own soul. It is also on the banks of the La Luna River that Calla encounters sweet, succulent first love, with a boy named Tuck.

But when Tuck leaves Calla with a broken heart, she transforms hurt into inspiration and heads for the wild and colorful city of New Orleans. In that extravagant big river city, she finds her destiny-and comes to understand fully the power of her "healing hands" to change lives and soothe pain, including her own. When Tuck reappears years later, he presents her with an offer that is colored by the memories of lost love. But who knows how Calla Lily, a "daughter of the Moon Lady," will respond?
The Book of Dahlia
by Elisa Albert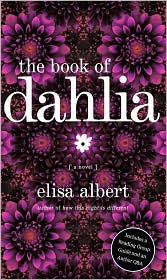 Publication Date: Mar 10 2009
ISBN-10: 0743291301
ISBN-13: 978-0743291309
Literary Fiction
Check Availability
From the author of the critically acclaimed story collection
How This Night Is Different
comes a dark, arresting, fearlessly funny story of one young woman's terminal illness. In
The Book of Dahlia
, Elisa Albert walks a dazzling line between gravitas and irreverence, mining an exhilarating blend of skepticism and curiosity, compassion and candor, high and low culture.
Meet Dahlia Finger: twenty-nine, depressed, whip-smart, occasionally affable, bracingly honest, resolutely single, and perennially unemployed. She spends her days stoned in front of the TV, watching the same movies repeatedly, like "a form of prayer." But Dahlia's so-called life is upended by an aggressive, inoperable brain tumor.
Stunned and uncomprehending, Dahlia must work toward reluctant emotional reckoning with the aid of a questionable self-help guide. She obsessively revisits the myriad heartbreaks, disappointments, rages, and regrets that comprise the story of her life -- from her parents' haphazard Israeli courtship to her kibbutz conception; from the role of beloved daughter and little sister to that of abandoned, suicidal adolescent; from an affluent childhood in Los Angeles to an aimless existence in the gentrified wilds of Brooklyn; from a girl with "options" to a girl with none -- convinced that cancer struck because she herself is somehow at fault.
With her take-no-prisoners perspective, her depressive humor, and her extreme vulnerability, Dahlia Finger is an unforgettable anti-heroine. This staggering portrait of one young woman's life and death confirms Elisa Albert as a "witty, incisive" (
Variety)
and even "wonder-inducing" writer (
Time Out New York
).
Falling
by Anne Simpson
Publisher: McClelland & Stewart
Publication Date: Feb 12 2008
ISBN-10: 0771080905
ISBN-13: 978-0771080906
Literary Fiction

Check Availability
On a late summer day along the shores of Nova Scotia, a young woman makes a mistake that will claim her life, while at the other end of the beach her brother, Damian, is unaware that she is drowning. Beginning with this shattering event, Anne Simpson's mesmerizing novel unfolds in unexpected ways.
A year after the accident, Damian and his mother, Ingrid, travel to Niagara Falls to scatter Lisa's ashes and to visit Ingrid's estranged brother, once a famous daredevil of the Falls, now blind, and his mentally disabled son. But old wounds and new misunderstandings soon collide. Damian, burdened by guilt, finds solace in an intense relationship with a girl he first glimpses in a tattoo parlour. A runaway with dreams of New York City, Jasmine has her own reasons for wanting to escape the past. Meanwhile, Ingrid, having reluctantly returned to her childhood home, finds herself at odds with her brother and besieged by memories. As the summer progresses, each of them becomes caught in the pull of the past - until an act of recklessness shocks them into a new course for the future.
In startling, luminous language, Anne Simpson captures both the natural beauty and tawdry eccentricity of Niagara Falls, while evoking the elemental bonds that tie us to the ones we love. By turns uncompromising and heartbreakingly tender,
Falling
is a riveting story of ordinary people poised on the knife-edge of grief and hope.
Glass of Time
by Michael Cox

Publisher: McClelland & Stewart
Publication Date: Oct 14 2008
ISBN-10: 0771023073
ISBN-13: 978-0771023071
Mystery / Historical
Check Availability
A page-turning late-Victorian mystery by a master,
The Glass of Time
is for fans of
The Meaning of Night
and for readers new to Michael Cox alike.
Picking up the lives of characters from the first novel some twenty years later, The
Glass of Time
begins in 1876. Nineteen-year-old orphan Esperanza Gorst arrives from Paris at the great country house of Evenwood to become lady's maid to the 26th Baroness Tansor, the former Miss Emily Carteret. But Esperanza is no ordinary servant. She has been sent by her guardian, the mysterious "Madame," to uncover the secrets that her new mistress has concealed for decades, and to set right a past injustice which - although Esperanza does not know it - is intimately linked with her own future as well as her past.
Gradually, those secrets are revealed, and with them the true identities of nearly every character - for it seems that no one in Esperanza's world is who she believes them to be. She finds herself enmeshed in a complicated web of intrigue, deceit, and murder that culminates in a devastating betrayal by those she trusted most.
Richly textured and elegantly told,
The Glass of Time
is a completely enveloping tale of identity, of the unexpected consequences of hidden truths, and of what can happen when past obsessions impose themselves on an unwilling present.
Relentless
by Dean Koontz

Publisher: Bantam
Publication Date: Jun 9 2009
ISBN-10: 0553807145
ISBN-13: 978-0553807141
Thriller / Suspense
Check Availability
Bestselling novelist Cullen "Cubby" Greenwich is a lucky man and he knows it. He makes a handsome living doing what he enjoys. His wife, Penny, a children's book author and illustrator, is the love of his life. Together they have a brilliant six-year-old, Milo, affectionately dubbed "Spooky," and a non-collie named Lassie, who's all but part of the family.
So Cubby knows he shouldn't let one bad review of his otherwise triumphant new book get to him - even if it does appear in the nation's premier newspaper and is penned by the much-feared, seldom-seen critic, Shearman Waxx. Cubby knows the best thing to do is ignore the gratuitously vicious, insulting, and inaccurate comments. Penny knows it, even little Milo knows it. If Lassie could talk, she'd tell Cubby to ignore them, too.
Ignore Shearman Waxx and his poison pen is just what Cubby intends to do. Until he happens to learn where the great man is taking his lunch. Cubby just wants to get a look at the mysterious recluse whose mere opinion can make or break a career-or a life.
But Shearman Waxx isn't what Cubby expects; and neither is the escalating terror that follows what seemed to be an innocent encounter. For Waxx gives criticism; he doesn't take it. He has ways of dealing with those who cross him that Cubby is only beginning to fathom. Soon Cubby finds himself in a desperate struggle with a relentless sociopath, facing an inexorable assault on far more than his life.
Sunnyside
by Glen David Gold
Publisher: Knopf
Publication Date: May 5 2009
ISBN-10: 0307270688
ISBN-13: 978-0307270689
Literary Fiction
Check Availability
Glen David Gold, author of the best seller
Carter Beats the Devil
, now gives us a grand entertainment with the brilliantly realized figure of Charlie Chaplin at its center: a novel at once cinematic and intimate, heartrending and darkly comic, that captures the moment when American capitalism, a world at war, and the emerging mecca of Hollywood intersect to spawn an enduring culture of celebrity.
Sunnyside
opens on a winter day in 1916 during which Charlie Chaplin is spotted in more than eight hundred places simultaneously, an extraordinary delusion that forever binds the overlapping fortunes of three men: Leland Wheeler, son of the world's last (and worst) Wild West star, as he finds unexpected love on the battlefields of France; Hugo Black, drafted to fight under the towering General Edmund Ironside in America's doomed expedition against the Bolsheviks; and Chaplin himself, as he faces a tightening vise of complications-studio moguls, questions about his patriotism, his unchecked heart, and, most menacing of all, his mother.
The narrative is as rich and expansive as the ground it covers, and it is cast with a dazzling roster of both real and fictional characters: Mary Pickford, Douglas Fairbanks, Adolph Zukor, Chaplin's (first) child bride, a thieving Girl Scout, the secretary of the treasury, a lovesick film theorist, three Russian princesses (gracious, nervous, and nihilist), a crew of fly-by-the-seat-of-their-pants moviemakers, legions of starstruck fans, and Rin Tin Tin.
Nocturnes: Five Stories of Music and Nightfall
by Kazuo Ishiguro
Publisher: Knopf Canada
Publication Date: May 5 2009
ISBN-10: 0307397874
ISBN-13: 978-0307397874
Literary Fiction / Short Stories
Check Availability
Kazuo Ishiguro is the author of six novels, including the international bestsellers
The Remains of the Day
(winner of the Booker Prize) and
Never Let Me Go
.
In this sublime story cycle, Ishiguro explores love, music and the passage of time. This quintet ranges from Italian piazzas to the Malvern Hills, a London flat to the "hush-hush floor" of an exclusive Hollywood hotel. Along the way we meet young dreamers, café musicians and faded stars, all at some moment of reckoning.
Gentle, intimate and witty,
Nocturnes
is underscored by a haunting theme: the struggle to restoke life's romance, even as relationships flounder and youthful hopes recede.
Praise for Kazuo Ishiguro:
"His books are Zen gardens with no flowery metaphors, no wild, untamed weeds threatening - or allowed - to overrun the plot."
-
The Globe and Mail
"One of our subtlest observers, a writer who takes enormous gambles, then uses his superior gifts to manage the risk as tightly as possible."
-
The New York Times Book Review
"A master storyteller, in a class of his own making."
-
The Independent
The Space Between Us
by Thrity Umrigar
Publisher: Harper Collins Canada
Publication Date: Jan 5 2006
ISBN-10: 0060791551
ISBN-13: 978-0060791551
Literary Fiction
In this new novel, beloved bestselling author Elizabeth Each morning, Bhima, a domestic servant in contemporary Bombay, leaves her own small shanty in the slums to tend to another woman's house. In Sera Dubash's home, Bhima scrubs the floors of a house in which she remains an outsider. She cleans furniture she is not permitted to sit on. She washes glasses from which she is not allowed to drink. Yet despite being separated from each other by blood and class, she and Sera find themselves bound by gender and shared life experiences.
Sera is an upper-middle-class Parsi housewife whose opulent surroundings hide the shame and disappointment of her abusive marriage. A widow, she devotes herself to her family, spending much of her time caring for her pregnant daughter, Dinaz, a kindhearted, educated professional, and her charming and successful son-in-law, Viraf.
Bhima, a stoic illiterate hardened by a life of despair and loss, has worked in the Dubash household for more than twenty years. Cursed by fate, she sacrifices all for her beautiful, headstrong granddaughter, Maya, a university student whose education -- paid for by Sera -- will enable them to escape the slums. But when an unwed Maya becomes pregnant by a man whose identity she refuses to reveal, Bhima's dreams of a better life for her granddaughter, as well as for herself, may be shattered forever.
Poignant and compelling, evocative and unforgettable,
The Space Between Us
is an intimate portrait of a distant yet familiar world. Set in modern-day India and witnessed through two compelling and achingly real women, the novel shows how the lives of the rich and the poor are intrinsically connected yet vastly removed from each other, and vividly captures how the bonds of womanhood are pitted against the divisions of class and culture.
The Deep Blue Sea for Beginners
by Luanne Rice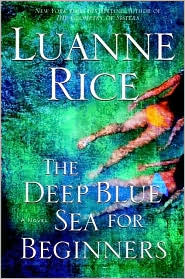 Publisher: Bantam
Publication Date: Aug 4 2009
ISBN-10: 0553805142
ISBN-13: 978-0553805147
Romance / Family Saga
Check Availability

Years ago, Lyra Davis left behind a world of wealth and privilege and the people she loved most in the world, unable to reconcile the expectations of her celebrated family with the longings of her own wild heart. Now she lives quietly among a community of expatriates on the isle of Capri, slowly, carefully learning to live fully for the first time, flourishing in the friendship of a singular man who recognizes in her a kindred spirit.

Granddaughter of the reigning doyenne of Newport, Rhode Island, wise beyond her sixteen years, Pell Davis is poised to take her place at the pinnacle of society. Yet she and her young sister still long for the mother who ran away from them when they were children so that they could be raised by the father they adored. Pell knows that Lyra felt she loved them best by leaving. But with her father now dead and her sister veering dangerously into fantasy, she will travel across an ocean to find the mother she remembers and the deeper truths they all need so desperately....

Lyrical, unforgettable, Luanne Rice's new novel unfolds against a background of timeless beauty, as an unlikely love affair reshapes the meaning of devotion and three generations of women resist the pull of memory and tradition to find a new way forward.
Smash Cut
by Sandra Brown

Publisher: Simon & Schuster
Publication Date: Aug 11 2009
ISBN-10: 1416563083
ISBN-13: 978-1416563082
Romantic Suspense
Check Availability
THE PRINCIPALS: Paul Wheeler: CEO of the Wheeler Enterprises empire, is shot dead during an armed robbery. Julie Rutledge: A savvy, cultured, and attractive Southern woman, was hand-inhand with Paul Wheeler at the time of his death. Derek Mitchell: A defense lawyer of renown, he goes to the mat to make a case for every client -- and headlines for himself. Creighton Wheeler: The prodigal nephew of Paul and a playboy with a passion for movies. Even those closest to Creighton can't be sure when he exits reality and enters the fantasy world of films.

STORYBOARD: The murder of Paul Wheeler has all the elements of a blockbuster: family rivalries, incalculable wealth, and a prominent man dying in the arms of his beautiful mistress. It's a case that could earn Derek Mitchell even greater star power. When the Wheeler family approaches him about defending Creighton for his uncle's murder -- even before he's charged -- he jumps at the chance.

Although Creighton has a rock-solid alibi, Julie is convinced that he is responsible for Paul's murder. Caught in several lies, and keeping secrets from Derek and the police, Julie is suspected of casting blame on Creighton to cover her own crime. Meanwhile, Derek fears he's being duped...yet he burns with jealousy when he thinks of Julie with her late lover. But the more Derek learns about Creighton, the more he doubts the young man's innocence. And hiding in a squalid motel under an assumed name is the one man, a career criminal, a killer, who knows the truth.
That Old Cape Magic
by

Richard Russo



Publisher: Knopf
Publication Date: Aug 4 2009
ISBN-10: 0375414967
ISBN-13: 978-0375414961
Literary Fiction

Check Availability

Griffin has been tooling around for nearly a year with his father's ashes in the trunk, but his mother is very much alive and not shy about calling on his cell phone. She does so as he drives down to Cape Cod, where he and his wife, Joy, will celebrate the marriage of their daughter Laura's best friend. For Griffin this is akin to driving into the past, since he took his childhood summer vacations here, his parents' respite from the hated Midwest. And the Cape is where he and Joy honeymooned, in the course of which they drafted the Great Truro Accord, a plan for their lives together that's now thirty years old and has largely come true. He'd left screenwriting and Los Angeles behind for the sort of New England college his snobby academic parents had always aspired to in vain; they'd moved into an old house full of character; and they'd started a family. Check, check and check.

But be careful what you pray for, especially if you manage to achieve it. By the end of this perfectly lovely weekend, the past has so thoroughly swamped the present that the future suddenly hangs in the balance. And when, a year later, a far more important wedding takes place, their beloved Laura's, on the coast of Maine, Griffin's chauffeuring two urns of ashes as he contends once more with Joy and her large, unruly family, and both he and she have brought dates along. How in the world could this have happened?

That Old Cape Magic is a novel of deep introspection and every family feeling imaginable, with a middle-aged man confronting his parents and their failed marriage, his own troubled one, his daughter's new life and, finally, what it was he thought he wanted and what in fact he has. The storytelling is flawless throughout, moments of great comedy and even hilarity alternating with others of rueful understanding and heart-stopping sadness, and its ending is at once surprising, uplifting and unlike anything this Pulitzer Prize winner has ever written.

Becoming George Sand
by Rosalind Brackenbury
Publisher: Doubleday Canada
Publication Date: Aug 18 2009
ISBN-10: 0385666195
ISBN-13: 978-0385666190
Literary Fiction
Check Availability
Maria Jameson, an Edinburgh academic, is passionately involved with a younger man and married to a steady, reliable husband with whom she has two children. She wonders: Is it possible to love two men at the same time? And must she feel guilty?
For answers she reaches across the centuries to the life story of George Sand, the maverick French novelist whose many lovers included the composer Frederic Chopin. While researching a book about Sand - and enduring bitter disappointment - she moves toward understanding how best to live her life.
This is a richly detailed novel that explores past and present, the personal and the historic, and sensuality, responsibility and the mystery of love. Sharply insightful, it is a deeply engaging examination of two women's minds, hearts and homes.
Bishop's Man
by

Linden MacIntyre



Publisher: Random House Canada
Publication Date: Jul 28 2009

ISBN-10: 0307357066

ISBN-13: 978-0307357069

Literary Fiction


Check Availability

From an award-winning writer and one of Canada's foremost broadcast journalists, comes a deeply wise and moving novel that explores the guilty minds and spiritual evasions of Catholic priests.

Father Duncan MacAskill has spent most of his priesthood as the "Exorcist" - an enforcer employed by his bishop to discipline wayward priests and suppress potential scandal. He knows all the devious ways that lonely priests persuade themselves that their needs trump their vows, but he's about to be sorely tested himself. While sequestered by his bishop in a small rural parish to avoid an impending public controversy, Duncan must confront the consequences of past cover-ups and the suppression of his own human needs. Pushed to the breaking point by loneliness, tragedy and sudden self-knowledge, Duncan discovers how hidden obsessions and guilty secrets either find their way to the light of understanding, or poison any chance we have for love and spiritual peace.
The White Queen
by Philippa Gregory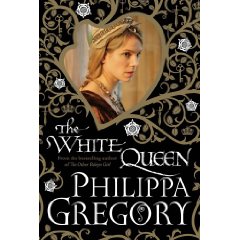 Publisher: Touchstone
Publication Date: Aug 18 2009
ISBN-10: 1416563687
ISBN-13: 978-1416563686
Historical Fiction
The White Queen
tells the story of a woman of extraordinary beauty and ambition who, catching the eye of the newly crowned boy king, marries him in secret and ascends to royalty. While Elizabeth rises to the demands of her exalted position and fights for the success of her family, her two sons become central figures in a mystery that has confounded historians for centuries: the missing princes in the Tower of London whose fate is still unknown. From her uniquely qualified perspective, Philippa Gregory explores this most famous unsolved mystery of English history, informed by impeccable research and framed by her inimitable storytelling skills.
With
The White Queen
, Philippa Gregory brings the artistry and intellect of a master writer and storyteller to a new era in history and begins what is sure to be another bestselling classic series from this beloved author.
Lavinia
by Ursula K. Le Guin
Publisher: Mariner Books
Publication Date: Mar 11 2009
ISBN-10: 0156033682
ISBN-13: 978-0156033688
Historical Fiction
The Aeneid
, Vergil's hero fights to claim the kings daughter, Lavinia, with whom he is destined to found an empire. Lavinia herself never speaks a word.
Now, Ursula K. Le Guin gives Lavinia a voice in a novel that takes us to the half-wild world of ancient Italy, when Rome was a muddy village near seven hills. Lavinia grows up knowing nothing but peace and freedom, until suitors come. Her mother wants her to marry handsome, ambitious Turnus. But omens and prophecies spoken by the sacred springs say she must marry a foreigner that she will be the cause of a bitter war and that her husband will not live long. When a fleet of Trojan ships sails up the Tiber, Lavinia decides to take her destiny into her own hands. And so she tells us what Vergil did not: the story of her life, and of the love of her life. Lavinia is a book of passion and war, generous and austerely beautiful, from a writer working at the height of her powers.