A Fair Country: Telling Truths About Canada by

John Ralston Saul




Publisher: Penguin Canada

Pub Date: Sep 16, 2008

ISBN-10: 0670068047

ISBN-13: 978-0670068043

Check Availability

In this startlingly original vision of Canada, thinker John Ralston Saul unveils 3 founding myths. Saul argues that the famous "peace, order, and good government" that supposedly defines Canada is a distortion of the country's true nature.

Every single document before the BNA Act, he points out, used the phrase "peace, welfare, and good government," demonstrating that the well-being of its citizenry was paramount. He also argues that Canada is a Métis nation, heavily influenced and shaped by aboriginal ideas: egalitarianism, a proper balance between individual and group, and a penchant for negotiation over violence are all aboriginal values that Canada absorbed.

Saul's "truths about Canada" include a damning exposition of our postcolonial shackles, a detailed historical case for the reversion of our national credo to "peace, welfare and good government," and a condemnation of Canadian business as mediocre, uninspired and wanting. All of these arguments are derived from the core idea of A Fair Country, which is that Canada is a polity fashioned in neither the European nor the American mould. Consequently, Saul argues, we should not be imagining ourselves in the tradition of either, but instead recognize the country's distinct nature, born of this land, and the integration, not just interaction, of settler and aboriginal life.
Real Life: Preparing for the 7 Most Challenging Days of Your Life
by Dr Phil McGraw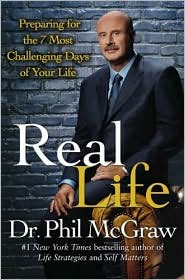 Publisher: Free Press
September 16, 2008
ISBN-10: 0743264959

What if you could see around the corners of your life? Wouldn't it help to know what the most challenging days of your life would be like BEFORE they hit?There are certain days in life that stand out because they are among the toughest that you or someone you love will experience. Your quality of life and your experience on the journey through this world are a function of how you handle these days when they arrive. Will you be ready? Will you be strong? Will you survive and be better for it, or will you cave?
In
Real Life: Preparing for the 7 Most Challenging Days of Your Life
, bestselling author and talk show host Dr. Phil McGraw is here to help you prepare to confront what he believes are the seven most common critical days that you or a loved one are likely to face. This book helps make it possible for you to be there for yourself or to be the calm in the middle of the storm for someone you love when any of these difficult days arrive.
My Natural History: the Evolution of a Gardener
by Liz Primeau

Publisher: Greystone Books
Publication Date: November 1, 2008
ISBN-10: 1553653769
ISBN-13: 978-1553653769
Home & Garden / Memoir

Check Availability
Written with the author's trademark blend of enthusiasm and insight, My Natural History describes how gardening has always been Liz Primeau's therapy, obsession, and reward. Full of fascinating gardening lore, personal history, and practical insight (including what to do when you notice your son is growing funny tomatoes among your seedlings), this wonderful memoir of life at ground level is sure to be savored by readers who share Primeau's passion for the earth and all the good things that come from it.
Distracted: the Erosion of Attention and the Coming Dark Age

by Maggie Jackson
Publisher: Prometheus Books
Publication Date: June 4, 2008
ISBN-10: 1591026237
ISBN-13: 978-1591026235

Sociology / Popular Culture

Check Availability
We have vast oceans of information at our disposal, yet increasingly we seek knowledge with brief glimpses at online headlines while juggling other tasks. We are networked as never before, but we communicate even with our most intimate friends and family via instant messaging, email, and fleeting face-to-face moments that are rescheduled a dozen times, then punctuated when they do occur with electronic interruptions and a lack of focus.
Despite our wondrous technologies and scientific advances, we are nurturing a culture of diffusion, fragmentation, and detachment. In this new world, something crucial is missing--attention. Attention is the key to recapturing our ability to reconnect, reflect, and relax; the secret to coping with a mobile, multitasking, virtual world that isn't going to slow down or get simpler. Attention can keep us grounded and focused--not diffused and fragmented.
Distracted offers the cutting-edge solutions we need to cure--not just live with--an epidemic of inattention. How did we get to the point where we keep one eye on our Blackberry and one eye on our spouse--in bed? At a time when we can contact millions of people worldwide, why is it hard to schedule a simple family supper? Most importantly, what can we do about it?
The Mother Factor: How Your Mother's Emotional Legacy Impacts Your Life
by Stephan B. Poulter
Publisher: Prometheus Books
Publication Date: March 18, 2008
ISBN-10: 1591026075
ISBN-13: 978-1591026075

Lifestyle & Family / Psychology
Check Availability
Whether we acknowledge it or not, our mothers leave an indelible impression on the persons we become. Our ability to function emotionally in relationships--both personal and professional--is based on our mothers' deep influence. In a book full of insights and wisdom based on a career of helping others, acclaimed psychologist Stephan B. Poulter shows how the mother factor can work either for or against us. The key to allowing this important legacy to work for us, says Dr. Poulter, depends on understanding our mother's pervasive influence on our life. He shows that the way we connect emotionally in adult relationships is based on the "style" of our mothers.
Although most mothers are a combination of the above, many fit more into one category than others. Even though as adults, we tend to dismiss our past as the past, we do so at risk to ourselves. Only by understanding how our mother's legacy affects us today can we transcend the mysterious anger, anxiety, depression, and shame that we feel, and achieve the kind of relationships we deserve.
Dr. Poulter demonstrates how the internalized "rulebook" we inherit from our mothers is a very powerful force. These unspoken rules govern work, relationships, emotions, separation, and independence. Unless we become aware of the rules that guide our behavior, thoughts, and beliefs, we won't have the ability to make our own choices.
This enlightening book will help readers connect with their past to correct self-defeating behaviors, reach their full emotional potentials, and live happier, more fulfilling lives.
The Green Beauty Guide: Your Essential Resource to Organic and Natural Skin Care, Hair Care, Makeup, and Fragrances

by Julie Gabriel
The promise of beauty is as close as the drugstore aisle-shampoo that gives your hair more body, lotions that smooth away wrinkles, makeup that makes your skin look flawless, and potions that take it all off again. But while conventional products say they'll make you more beautiful, they contain toxins and preservatives that are both bad for the environment and bad for your body-including synthetic fragrances, petrochemicals, and even formaldehyde. In the end, they damage your natural vitality and good looks.
Fortunately, fashion writer, nutritionist, and beauty maven Julie Gabriel helps you find the true path to natural, healthy, green beauty. She helps you decipher labels on every cosmetic product you pick up and avoid toxic and damaging chemicals with her detailed Toxic Ingredients List. You'll learn valuable tips on what your skin really needs to be healthy, glowing, and youthful.
Julie goes one-step further-and shows you how to make your own beauty products that feed your skin, save your bank account, and are healthy for your body and the environment.
Wisdom of Birds: An Illustrated History of Ornithology

by Tim Birkhead
Publisher: Greystone Books
Publication Date: September 8, 2008
ISBN-10: 1553654269
ISBN-13: 978-1553654261

A gorgeously rendered and comprehensive history of ornithology, from folklore to facts. Leading ornithologist Tim Birkhead takes readers on a journey through the wonderful world of birds: conception and egg, territory and song, breeding and migration. In the process, he reveals how birders have overcome centuries-old superstitions and untested truths to achieve a firmer understanding of birds. He also details when and how this knowledge was first acquired, detailing the various myths and misconceptions that were believed to be true throughout the ages and when they were finally corrected.

Conceived for a general audience, and illustrated throughout with more than one hundred exquisitely beautiful illustrations, many of them rarely if ever seen before, The Wisdom of Birds is a book full of stories, knowledge, and unexpected revelations. Engaging and accessible, it is an illustrated history of birds-and all they have taught us.

Mother Warriors: A Nation of Parents Healing Autism Against All Odds
by Jenny McCarthy

Publisher: Dutton Adult
Publication Date: September 23, 2008
ISBN-10: 0525950699
ISBN-13: 978-0525950691
Stories of hope and recovery from a nation of parents of autistic children.
When Jenny McCarthy published
Louder Than Words
, the story of her successful efforts to save her son, Evan, from autism, the response was tremendous. It hit #3 on the New York Times bestseller list; and Jenny and Evan were featured on the covers of several magazines, including People. But what she hadn't anticipated was the overwhelming response from other parents of autistic children, who sought her out to share their stories.
No two autistic children heal in exactly the same way. And in her new book, Jenny expands her message to share recovery stories from parents across the country. Mother Warriors, shows how each parent fought to find her own child's perfect "remedy of interventions" and teaches parents how to navigate safely through the many autism therapies.
Along the way, Jenny shares her own journey as an autism advocate and mother as well as the progress of her son, Evan. Emotional and genuinely practical, Mother Warriors will inspire a generation of parents with hope.
The War Within: A Secret White House History 2006-2008

by Bob Woodward
Publisher: Simon & Schuster
Publication Date: September 8, 2008
ISBN-10: 1416558977
ISBN-13: 978-1416558972
As violence in Iraq reaches unnerving levels in 2006, a second front in the war rages at the highest levels of the Bush administration. In his fourth book on President George W. Bush, Bob Woodward takes readers deep inside the tensions, secret debates, unofficial backchannels, distrust and determination within the White House, the Pentagon, the State Department, the intelligence agencies and the U.S. military headquarters in Iraq. With unparalleled intimacy and detail, this gripping account of a president at war describes a period of distress and uncertainty within the U.S. government from 2006 through mid-2008.
Woodward interviewed key players, obtained dozens of never-before-published documents, and had nearly three hours of exclusive interviews with President Bush. The result is a stunning, firsthand history of the years from mid-2006, when the White House realizes the Iraq strategy is not working, through the decision to surge another 30,000 U.S. troops in 2007, and into mid-2008, when the war becomes a fault line in the presidential election.
A Wolf at the Table: A Memoir of My Father
by Augusten Burroughs
Publisher: St. Martin's Press
Publication Date: April 29, 2008
ISBN-10: 0312342020
ISBN-13: 978-0312342029
Biography / Memoir

Check Availability
When Augusten Burroughs was small, his father was a shadowy presence in his life: a form on the stairs, a cough from the basement, a silent figure smoking a cigarette in the dark. As Augusten grew older, something sinister within his father began to unfurl. Something dark and secretive that could not be named.
Betrayal after shocking betrayal ensued, and Augusten's childhood was over. The kind of father he wanted didn't exist for him. This father was distant, aloof, uninterested. And then the "games" began.
With A Wolf at the Table, Augusten Burroughs makes a quantum leap into untapped emotional terrain: the radical pendulum swing between love and hate, the unspeakably terrifying relationship between father and son. Told with scorching honesty and penetrating insight, it is a story for anyone who has ever longed for unconditional love from a parent. Though harrowing and brutal, A Wolf at the Table will ultimately leave you buoyed with the profound joy of simply being alive. It's a memoir of stunning psychological cruelty and the redemptive power of hope.
The Inner Tradition of Yoga: A Guide to Yoga Philosophy for the Contemporary Practitioner
by Michael Stone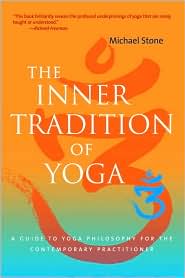 Publisher: Shambhala
Publication Date: August 12, 2008
ISBN-10: 1590305698
ISBN-13: 978-1590305690
There is more to the tradition of yoga than toning and strengthening. At the root, there is a vast and intriguing philosophy that teaches the ethics of nonviolence, patience, honesty, and respect. Michael Stone provides an in-depth explanation of ancient Indian yogic philosophy along with teachings on how to bring our understanding of yoga theory to deeper levels through our practice on the mat-and through our relationships with others.
Have a New Kid by Friday: How to Change Your Child's Attitude, Behavior & Character in 5 Days
by Dr. Kevin Leman
Publisher: Revell
Publication Date: March 1, 2008
ISBN-10: 0800719026
ISBN-13: 978-0800719029
Lifestyle & Family
Check Availability
Anyone who has dealt with a strong-willed child knows that it is no easy task to turn bad behavior around. But the popularity of TV programs like Supernanny and Nanny 911 shows that parents have had it up to here and are ready to try anything to get their children to behave.
Bestselling author and psychologist Dr. Kevin Leman is here to help. Have a New Kid by Friday shows parents how to reverse negative behavior in their children--fast! With his signature wit and encouragement, Dr. Leman offers hope and real, practical, doable strategies for regaining control and becoming the parents they always wanted to be. Focusing on changing a child's attitude, behavior, and character, it contains chapters for each day of the week and a special section with advice on everything from rolling eyes to sibling rivalry to talking back to punching walls and much, much more. This large section of more than 100 specific topics is indexed, allowing parents to flip immediately to any areas of concern for witty, straightforward, and gutsy plans of action.